S
teel is
not
getting any cheaper. Energy is
not
getting any cheaper. Labor is
not
getting any cheaper. And
your productivity is more important than ever
.
Effectiveness (doing right things) and efficiency (doing things right) are essential in today's economy.
PractiCAM

nesting alone saves you up to 30% of your metal.



Our built-in

cost estimating

provides you with better and more precise numbers for winning your bids — and making money on bids you make.



An ability to create virtually

ANY

fitting,

ANY

part,

ANY

sheet metal design,

ANY

flat pattern you may want to make — from custom shapes and fittings to metal art — eliminates all bottlenecks in your fabrication process.
And, of course, every
PractiCAM
comes with
FREE

training,

FREE

phone support,

FREE

additional workstations
for each site, and a lot of other features (all included in the product
free of charge
) making it the most effective and efficient alternative for your shop.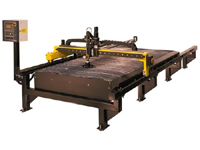 Direct gains — in your client base, in your potential market, in your material and labor savings, and ultimately, in your profit margins.
All in one package.
Give us a call. Ask about available discounts —
up to 50% off
MSRP. Ask about discounts on
PractiCAM
and
PractiCAD
software,
ESAB
plasma tables, rollforming and other HVAC equipment. Ask about available terms, including leasing and financing.
You will find that, right now,
our product lines are

more affordable

— and

cost-effective

— than ever.
Give us a call —
now
.